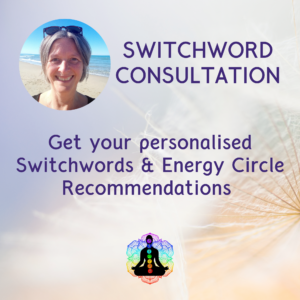 Switchwords Consultation: Create Your Happiness

Switchwords Consultation with Energyhealing Circle, Well-being, career, love,

usable for every life situation
"Switchwords easily give to you whatever you want in life."
Shunyam Nirav
Everything in the universe has a specific energy vibration or frequency, including words, colors, humans, and even tables – in fact, everything vibrates.
Each Switchword possesses a unique energy vibration, which is essentially an energetic code or pattern that can rewire your brain and heal your heart.
When you use a Switchword, it resonates with the information field and your higher Self, and your request is directly supported by the information field. This optimization of your life situation occurs without the need for you to comprehend the Switchwords or to have a personal connection to them.
Switchwords work through their energy vibration and can bring about the best possible outcome for you in any circumstance.
Switchwords can support you in all aspects of your life, offering practical assistance in your daily life and providing support for deeper emotional challenges.
---
TESTIMONIAL
"A very wonderful consultation – in the truest sense of the word ☺️ Thank you, dear Sandra ✨"
Anna-Lena Martin

---
SWITCHWORDS CONSULTATION WITH ENERGYHEALING CIRCLE

In this Switchwords consultation, I will select proven and tested Switchwords specifically for your question. Switchwords are specific words that energetically support you in solving your problems and reaching your goals.
With your personalized combination of 3 to 5 Switchwords, I will create an energy healing circle for you, which you will receive as a digital image file. These Switchwords provide you with an energetic key to more harmony, joy, well-being, and success, and can support you in your personal evolution.
I will provide you with a detailed explanation for each recommended Switchword and instructions on how to use them. Additionally, I will select colors for your energy circle that will effectively support your wishes.
After the consultation, you will receive an explanation of how to activate and use the energy healing circle. I have been offering Switchwords consultations for several years now, and many people have already experienced wonderful results. Using Switchwords is easy, simple, and practical for everyday life.
++ 📝 Booking, Payment and receiving your Switchword Consultation ++
The consultation takes place in writing by e-mail. Payment is in advance.
Booking: via email to office@sandraplanck.com.
Payment: Cash in advance, via Paypal or bank transfer.
After confirmation of payment, I will send you your Switchwords Consultation within 1-2 days by e-mail.
This consultation is for one issue. Please tell me in a few sentences your intention or wish for which you would like the Switchwords consultation. If I have any further questions, I will get back to you.
You will receive your Switchwords Consultation as a multi-page PDF document and your energy healing circle as a picture file by email. Please provide me with your email address.
For your Energy Circle please tell me:
– Your name and
– date of birth
Everything you tell me will be treated confidentially, and kindly refer to my disclaimer at the bottom of this page.
Switchwords Consultation for one issue 95 € incl. vAT
including Energyhealing Circle as image file
If are uncertain about what you need, but have a desire to bring positive change into your life, I recommend a Soul Reading.
Be blessed! 🙏🏼
Sandra
Words create miracles!
QUESTIONS? EMAIL ME AT office@sandraplanck.com.
I look forward to supporting you in bringing positive movement in your life.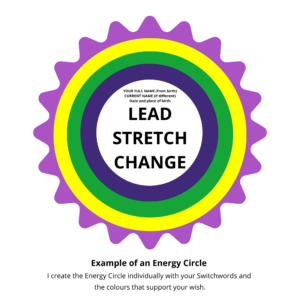 MORE TESTIMONIALS
"I actually came up with the key words by "coincidence". But as is well known, there are no coincidences and that's exactly how it is 🙂 I already know a few techniques to make my life easier, but Switchwords have never been there. At first I was suspicious of this simplicity, because most of what I got to know was not so easy and still effective to use. But exactly THIS technique, which Sandra guides so wonderfully with all her heart, brings so much positive energy into my everyday life, I never would have thought that words would have such an impact! I can only recommend it to everyone, give it a try! Sandra will accompany you with all her heart and you will definitely be happy that you dared to try something new!  I can recommend Sandra from the bottom of my heart ♥♥♥"
Marion Bachmann

"Quick answer, great advice! Very helpful. Helped me a lot."
Natascha R.
💫💫 Start now! 💫💫
Book your Consultation. Send your booking to:  office@sandraplanck.com
---
++ Disclaimer: ++

This consultation is an individual consultation. Returns or exchanges are not possible and will not be accepted.
My Consulting offer is a general life consulting. It serves to improve your quality of life.
It is intended for people who want to develop their potential or learn a new way of dealing with certain areas of life. If you are suffering from acute health or mental illness, I recommend you to consult a doctor, alternative practitioner or psychotherapist of your choice.
It is not a psychological or psychotherapeutic treatment.