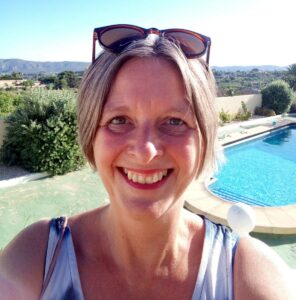 Hey! I'm glad that you want to get to know me better. ♥

My name is Sandra Planck. I was born on December 24, 1970 in Coburg, Germany. I spend part of the year in Coburg and part of the year in Spain on the beautiful Costa Blanca.
After working as a clerk for 30 years, I have been living my calling as a spiritual Life Coach since 2018. I provide guidance and support to people on their path towards a self-determined and optimistic lifestyle, where they can have the experiences they desire.

In search of my own personal spirituality and answers to life's "whence and whither", I joined a charismatic Christian community in 1996 after the birth of my son. After almost 20 years, I still had unanswered questions and felt deep within my soul that it was time to move on.
During this time, I came across Dr. Joseph Murphy's book, "The Power of Your Subconscious". It made me realize that there is not one truth. I can choose what I want to make my truth and change anything in my life that I don't like.
Everything starts within me, in my subconscious and in my soul. I am connected to the divine source of all being and therefore the divine aspect, the creative power, flows in me and through me. I am the creator of my life. I have the full power and authority in my life.
No outside power can rule over me, and I am not helpless to any destiny. I decide what I want, and my subconscious, soul, higher self, and divine source support me in achieving it.
Everything is energy vibration, and I set the causes for the effects I experience on the outside through my words, thoughts, and feelings.
I am connected to this divine source that guides and speaks to me. I move with the divine flow of love and life and am finally living my self-determined and happy life. My husband Michael walks the path of life with me, and we are accompanied by our two Chihuahua males, Chicco and Mogli, who are our beloved pets.
My son, who is now grown up, has found his own wonderful path in life and brings sunshine to my life.
Currently, I am living a self-determined and happy life, following my soul plan. I love my life and enjoy it every day.
Since 2018, I have been supporting wonderful souls on their path to mental, emotional and spiritual freedom and healing.
"LIFE is an expression of JOY."
The Bible verse from Isaiah 61,1 describes my service very well 💜
To bring good news to the poor; to bind up the broken-hearted, to proclaim liberty to the captives and the opening of the prison to those who are bound; to comfort all who mourn; to strengthen the spirit.
It is wonderful to see how women and men come back into their power and find back to the joy of life.
How they become aware of the power of their subconscious and their creative power and learn to apply it consciously in their lives.
How people are strengthened and comforted. Realize their soul plan and come into self-development step by step. And how these people learn how important self-care is.
When your soul is healed, your life can heal.
As soon as you become aware of your divine nature again, reconnected to the divine source of all being, you are able to change your life positively and flow in the living harmonious current of life.
The universal divine energy is impersonal and responds only to your energy vibration.
Your belief, your emotions, your thoughts and your words – these are your energy vibrations that are connected to the divine source (heavenly father, quantum field, divine matrix).
This is the fundament of my Soul Readings and Consultations.
Through my training and ongoing education, I have specialized in suggestive work with the subconscious mind and soul healing. In the process, I discovered the remarkable power of words.
Thus, Soul Words were born. These are specific Switch- and Powerwords that allow for the healing and release of unconscious soul parts.
In my Soul Readings, which are done in connection with the divine source, I receive words and impulses for the healing of wounded soul parts, as well as the release of both conscious and unconscious blockages. They serve as guidance for new life experiences and open doors that were previously closed.
The use of Soul Words combines divine impulses, a touch of mysticism, quantum physics, and modern consciousness science.
"Even a word that is only thought is unheard and invisible – nevertheless, it exists in reality."

– Dr. Joseph Murphy
And a little more about me 🙂

😀 I am a cheerful person who loves to enjoy life to the fullest.
🗺️ I love to experience adventures, meet great people and travel the world
🏖 I love the ocean, sun and warmth
❤️ happily married to exactly "the right one"
🧶 Hobby: My favorite crafting is crocheting beautiful little things. Here you can find some of my works.
💫 on a spiritual journey for about 27 years.
🌟 I enjoy inspiring and motivating others to live a positive lifestyle.
🌟 Working as a Spiritual Life Coach and Mindset Coach since 2018
🌟 Certified education as a Mindset Coach with Christian Huber, Mental Coaching
🌟 Advanced education as a Switchwords Coach at AUM KARMA, Centre for Holistic Studies
🌟 Advanced education Morphic Field Reading with Tatjana Magda

I love what I do and I am looking forward to supporting you and helping you along a part of your life journey.

With love,

Sandra Planck
Words create miracles!

"With your words you create your circumstances. Each word is a further seed through which you plant the garden of your life."
Join our Soul Word Family – inspiring impulses, soul messages and more!