Soul Word Channelling with life counselling impulse

"Change your life with just one word"

Written Soul Word Reading
135 €
Words create miracles! Your soul knows what you need now! Get your Soul Power Word and move forward.


In this Soul Word Channeling I receive and give you your Soul Word and a life counselling impulse.
Your soul word is a ☀️ sunbeam in your life to create magical positive changes. It shows you what is important for you now, so that your life comes back into the flow of life.
Your soul word is your "open sesame". Words have an impact! They open doors for you and show you new paths. It is your magic word that brings you solutions and opportunities and helps you find peace of mind and happiness.
Your soul word is your magic word that you use like a mantra. This is how it unfolds in your soul and connects with the universe, the divine source of all being, and this is how you bring about magical changes in your life.
Soul Words are Switchwords that transform your subconscious, reconnect your brain and heal your heart.
Your Soul Word is also a key to your subconscious. It helps you connect with your higher wisdom and the universe for inspiration and healing.
This wonderful impulse will strengthen you, encourage you and help you to change your life situation positively.
Your Soul Word guide you powerfully for about 3 – 4 weeks. It guides you, encourages you, strengthens you, opens new doors for you and heals your soul.
This impulse can also be the cornerstone stone for a more far-reaching change – just let yourself be surprised what the divine source has for you.
The best thing that can happen will happen. 💖
At the same time, your soul word is also a wonderful energetic method that also brings about healing, restoration and opening new pathways on a quantum level. (Quantum Healing)
I combine your Soul Word uniquely with my experience as a spiritual life counsellor and mindset coach. You will receive help from me on a mental, soul and spiritual level.
Your soul words are words of power that help you to experience mental, emotional and spiritual changes in order to walk your soul path. Words create miracles!
📌 Please note: My Soul Word Channelling is not a fortune-telling or oracle. It is a mental support with which you reprogram your subconscious and create new energies. Through this you are in your own creative power and create your life with self-empowerment.
++ 📝 Booking, Payment and receiving your Soul Word Channelling ++
The consultation takes place in writing by e-mail. Payment is in advance.
Booking: via email to office@sandraplanck.com.

Payment: Cash in advance, via Paypal or bank transfer.
Upon confirmation of payment, I will send you your reading within 1-2 days by email. 
For the Reading please tell me:
– Your name
– date of birth
– your concern
Everything you tell me will be treated confidentially. Please also note my disclaimer at the bottom of this page.
Additional: You want your personal Energy Healing Circle for your Soul Word? I will be pleased to create your Energyhealing Circle.
You can book your Energy Healing Circle directly by email.
Costs for the Energy Healing Circle:  19 €.
If you have any questions about the consultation before booking, feel free to contact me.
Be blessed! 🙏🏼
Sandra
Words creates miracles!
---
WHAT A CLIENT SAYS ABOUT THE SOULWORD READING
"Dear Sandra, thank you for my soul word. The soul word probably hits it on the point and fits super to my life.
A heartfelt thank you and gladly again!"
Sophie
---
Additional: You want your personal Energyhealing Circle?
This is an example of an Energyhealing Circle. I intuitively create the energy healing image in form and color and with your Soul Word.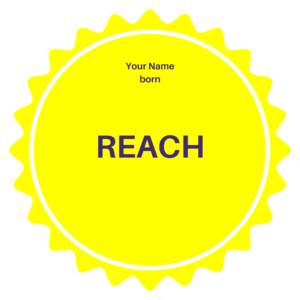 If you have any questions about the reading, please send me a message.
---
++ Disclaimer ++
This consultation is an individual consultation. Returns or exchanges are not possible and will not be accepted.
My counseling offer is a general life counseling. It is for the improvement of your quality of life.
It is intended for people who want to develop their potential or learn a new way of dealing with certain areas of life. If you suffer from acute health or mental illness, I recommend you to see a doctor, alternative practitioner or psychotherapist of your choice.
It is not a psychological or psychotherapeutic treatment.
I do not read for health prognosis, pregnancy, legal matters. The reading does not make any promises of healing.