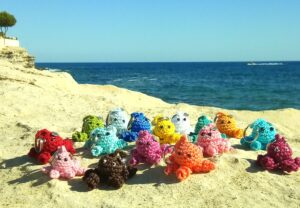 My favorite handicraft hobby is crocheting enchanting little things and painting stones with Soul Messages.
Sometimes it may be a larger accessory, or sometimes knitted baby shoes or dog sweaters.
I love it when colorful wool turns into pretty keychains, potholders or other useful or decorative things.
A few years ago I used to go regularly to craft markets in my hometown Coburg (Germany). Now I offer my beautiful crochet work in Spain: Moraira, Benissa, Teulada, Jalon, Calpe and Altea.
You can find some examples of my work here on my website.
If you are interested, please contact me by mail: mail@sandraplanck.com
I'll be happy to send you current photos via Whatsapp or you just come by.
Some impressions of my work